From July through December 2010, SFMOMA's Live Art program invites San Francisco's own Rebecca Solnit to lead a thematic tour of the Bay Area with Infinite City: A San Francisco Atlas, a printing and public project by the acclaimed writer.
Solnit's forthcoming book by the same title reimagines traditional mapmaking to chart not just space and place but also people and time in 22 inventive maps. SFMOMA has partnered with Solnit and a range of collaborators to issue six broadside prints (one a month through December) based on seven maps. Each map is joined to a series of Live Art events—both at the museum and out in the community—featuring many of Solnit's Infinite City cohorts and special guests, such as artists Sandow Birk, Jaime Cortez, Amy Franceschini, Guillermo Gomez-Peña, and Trevor Paglen; filmmakers Christian Bruno, Ernie Gehr, Chip Lord, Lourdes Portillo, and Konrad Steiner; photographer Ira Nowinsky; collector David Rumsey; poet Aaron Shurin; the culinary collective OPENrestaurant; and the Sisters of Perpetual Indulgence, to name just a few.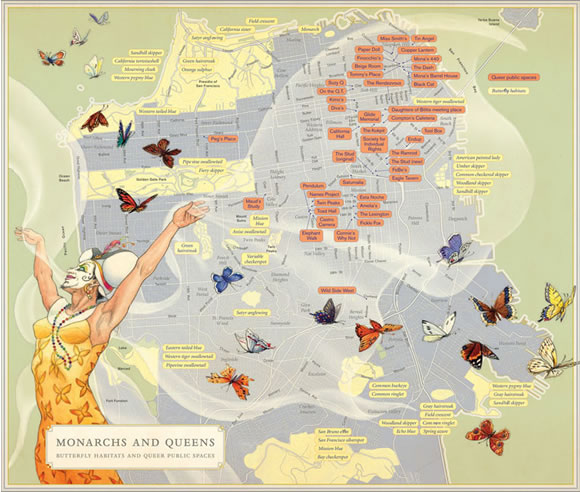 Monarchs and Queens, map with artwork by Mona Caron, from the book Infinite City: A San Francisco Atlas (forthcoming from UC Press) by Rebecca Solnit, 2010; © Mona Caron and Rebecca Solnit
In July, the "Monarchs and Queens" map juxtaposes the habitats of local butterflies with the shifting locations of queer public space. In August the series takes up conservative and military pursuits in the Bay Area with the "Right Wing of the Dove" map. September's offering, titled "Cinema City," looks at San Francisco through the lens of Eadweard Muybridge's motion studies and Alfred Hitchcock's Vertigo, and leads participants on a film crawl through the city's historic movie houses. In October the two-map broadside "All Identity Is Local" explores how one's identity shifts when moving among neighborhoods, and looks at San Francisco's present and vanishing subcultures. November's "Poison/Palate" map traces the Bay Area as an ecosystem of paired opposites, sampling the finest food producers and biggest toxic polluters across the city. Finally, in December, the "Lost World" map revisits San Francisco's South of Market district and the housing wars of its blue-collar past.
Infinite City maps are available free of charge at SFMOMA's MuseumStore and various bookstores throughout San Francisco. Related Infinite City events at SFMOMA are free with museum admission. Most off-site events are free and open to the public. Visit sfmoma.org/infinitecity for more program and ticket information.
SFMOMA's Live Art series has transformed the nature of the museum's public programming, embracing the event-driven, performance-based aspect of much contemporary art. Encompassing a broad spectrum of programming—from intimate collaborations to provocative spectacles—Live Art supports direct interactions among artists, artworks, and communities and activates the museum's spaces in new ways. Previous events in the series include hands-on workshops with artist Allison Smith; Metal + Machine + Manifesto = Futurism's First 100 Years; New Humans' Today Is Not a Dress Rehearsal; William Kentridge's The Return of Ulysses; Fritz Haeg's Animal Estates; Eve Sussman's The Rape of the Sabine Women; and Weimar New York: A Golden Gate Affair.
San Francisco Museum of Modern Art
151 Third Street
San Francisco, CA 94103
www.sfmoma.org