The Contemporary Jewish Museum presents Charlotte Salomon: Life? or Theatre? on view March 31 – July 31, 2011.
In the early years of World War II, Charlotte Salomon, a 23-year-old Jewish artist from Berlin, fled to the south of France where she shut herself into a hotel room and spent two years feverishly painting the history of her life. She called it Life? or Theatre?: A Play With Music, an astounding body of over 1300 powerfully drawn and expressively colored gouache paintings conceived as a sort of autobiographical operetta on paper. On one numbered page after another, Salomon used an inventive mixture of images, dialogue, commentary and musical cues to tell a compelling coming-of-age story set amidst family suicides and increasing Nazi oppression. This singular creation would be Salomon's only major work. Just one year after she completed Life? or Theatre?, the pregnant 26-year-old was transported to Auschwitz and killed.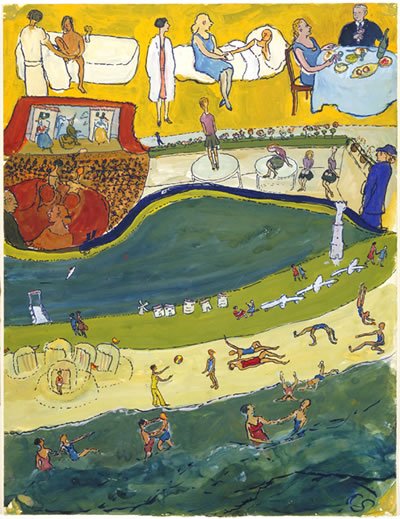 This spring, the Contemporary Jewish Museum will be the only museum on the West Coast to show this new installation of Charlotte Salomon: Life? or Theatre?, an exhibition featuring nearly 300 of Salomon's gouaches from the collection of the Jewish Historical Museum in Amsterdam. The exhibition highlights the main acts of Salomon's sweeping narrative, allowing visitors to appreciate not just the individual strength of each piece but also its serial nature.
"Life? or Theatre? is an extraordinary work of art that deserves and needs to be seen," says Connie Wolf, director of the Contemporary Jewish Museum. "Anyone with an interest in the creative spirit will be moved and awed by Salomon's compelling magnum opus. This lifetime of work, created in such a short space of time with no promise or even hope of recognition, speaks so deeply to how essential an act of art making can be. We are so thrilled to be able to bring this to a wider audience."
THE STORY
Salomon structured Life? or Theatre? as a play with a prologue, a main part, and a finale. The prologue focuses on her childhood and adolescence in Weimar and Nazi Berlin; the main section on a man who would be Salomon's greatest artistic inspiration and first love; and the epilogue on her life in exile.
The story was certainly her story, and she recollects it in detail, but as her own title suggests, Salomon fictionalized elements. Certain inventions are immediately apparent — she gave stage names to the family and friends that became her cast of characters including her own stand in, Charlotte Kann – but the extent to which the narrative of Life? or Theatre? embellishes or strays from the truth remains, in some respects, unknown.
When the curtain goes up in 1913, an 18-year-old girl commits suicide. This is the aunt that Charlotte will be named after when she is born four years later, and it is the first of many suicides amongst the women in the family, a key leitmotiv in the work. Charlotte is raised in an assimilated Jewish upper-class household by her loving parents, Albert and Franziska, and enjoys a happy childhood. When she is 8 years old, however, her mother dies from what Charlotte is told was influenza, but in fact, was a leap from a window.
Her father remarries a celebrated and charismatic singer, Paula Lindberg, who Charlotte adores. Salomon makes her one of the central characters of Life? or Theatre?, giving her the name Paulinka Bimbam (Lindberg's father was a rabbi and 'bimbam' refers to a word from a song sung on the Jewish Sabbath). As the prologue continues, the family is increasingly excluded from public life due to anti-Semitic policies instituted after Hitler's rise to power in 1933. Her father loses his job, her stepmother is barred from making public appearances and Charlotte's worldly grandparents emigrate to the south of France. Charlotte leaves school and takes up private drawing lessons. A year later, she remarkably enters Berlin's Art Academy, admitted as part of a small quota of Jews. She was considered an unremarkable student.
Enter Amadeus Daberlohn (whose real name was Alfred Wolfsohn), an unemployed voice teacher shellshocked from the First World War. With his extravagant theories about the connection between the soul and creativity, he would become one of the central characters of Life? or Theatre?, capturing young Charlotte's heart. Amadeus, however, is smitten with Charlotte's alluring stepmother, and only eventually turns his attention to Charlotte, primarily as the subject of his theoretical investigations. Salomon, acknowledging the foolishness of the situation, reserves some of her funniest and most astute character analyzes for the beloved, but somewhat pompous Amadeus. Whether or not this great, but unrequited love was more fact or more fiction, the text strongly suggests that it was this man's encouragements that fired Salomon's artistic ambitions and sustained her to the end of her life.
As the story continues, Charlotte's father is briefly sent to a concentration camp (her stepmother miraculously obtains his release). Germany is deemed too dangerous, and Charlotte is sent to her grandparents in the south of France.
The epilogue begins as France declares war on Germany and Charlotte's grandmother takes her own life out of despair at the growing threat. It is at this time that Charlotte learns about the real nature of her mother's suicide and the history of suicide in her family. When the south of France is cleared of foreign immigrants, she and her grandfather are briefly interned in a camp, but are released due to her grandfather's age.
Charlotte is on the brink of a nervous break down and is confronted with the choice of either committing suicide or "doing something especially crazy," as Salomon writes on one of the last sheets of the work. Charlotte recalls Amadeus' words, "first fathom yourself in order to reinvent yourself," and begins working on Life? or Theatre?. Salomon writes, "And, with dream-awakened eyes, she saw all the beauty around her, saw the ocean, felt the sun, and knew: she must disappear for a time from the human surface, and sacrifice everything for this – to recreate herself from the depths of her world."
Life? or Theatre? stops here where it begins. Acquaintances reported that Salomon was so possessed during its creation that she only rarely stopped to eat, drink and sleep. When she was finished, she handed all of the pages to a friend, saying, "Take good care of it. It is my life."
Salomon survived for one year beyond the completion of Life? or Theatre? – a year that became increasingly dangerous after the Italians occupied Southern France and began to deport Jews to camps in Germany. Her grandfather passed away and Salomon, sheltering in a villa owned by an American woman, married the villa's sole remaining resident, an Austrian refugee named Alexander Nagler. The marriage doomed the couple – it was Nagler's attempt to get a marriage license at the local police station that gave them away as Jews. Salomon was pregnant when both she and her husband were picked up by the Gestapo. Salomon was killed immediately on arrival at Auschwitz;
Image: Charlotte Salomon, Gouache from "Life? or Theatre?," 1940-1942, Villefranche, France. Collection Jewish Historical Museum, Amsterdam. Copyright Charlotte Salomon FoundationNagler murdered a few months later.
About the Contemporary Jewish Museum
With the opening of its new building on June 8, 2008, the Contemporary Jewish Museum (CJM) ushered in a new chapter in its twenty-plus year history of engaging audiences and artists in exploring contemporary perspectives on Jewish culture, history, art, and ideas. The new facility, designed by internationally renowned architect Daniel Libeskind, is a lively center where people of all ages and backgrounds can gather to experience art, share diverse perspectives, and engage in hands-on activities. Inspired by the Hebrew phrase "L'Chaim" (To Life), the building is a physical embodiment of the CJM's mission to bring together tradition and innovation in an exploration of the Jewish experience in the 21st century.
Major support for the Contemporary Jewish Museum comes from the Koret and Taube Foundations, who are the lead supporters of the 2010/11 exhibition season. Additional major support is provided by the Jim Joseph Foundation; The Wallace Foundation; Bank of America; Institute of Museum and Library Services; Grants for the Arts/San Francisco Hotel Tax Fund; The Hearst Foundations; Terra Foundation for American Art; Walter and Elise Haas Fund; Osterweis Capital Management; The Skirball Foundation; Target; The Horace W. Goldsmith Foundation; and Alexander M. and June L. Maisin Foundation. The Museum also receives major support from the Jewish Community Federation of San Francisco, the Peninsula, Marin and Sonoma Counties.
For more information about the Contemporary Jewish Museum, visit the Museum's website thecjm.org