The Frederick R. Weisman Museum of Art at Pepperdine University presents "David Gallup: California's Channel Islands" from May 21 through July 31, 2011. This art exhibition features over 70 original oil paintings by an esteemed Southern California landscape painter that record his first-hand experiences of this fascinating ecosystem. There will be a reception to meet the artist on Saturday, May 21. David Gallup took his first trip to the Channel Islands National Park and Marine Sanctuary in February 2005 as part of a group of artists and scientists commemorating the park's 25th anniversary. For the past six years, he has made dozens of trips to all the islands in order to paint the region's plants, wildlife, and rich scenic wonders.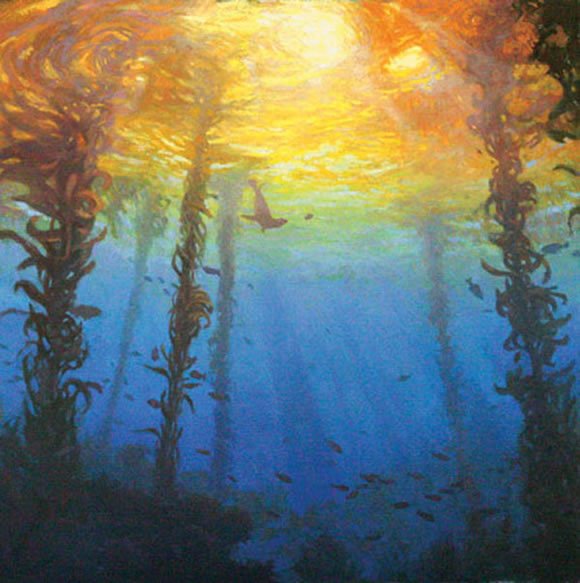 David Gallup, The Garden Below—Kelp Forest off Santa Cruz Island. Oil on birch panel. 28 x 28 inches.
The Channel Islands are a chain of eight islands located off the coast of Southern California along the Santa Barbara Channel. Five of the islands (San Miguel, Santa Rosa, Santa Cruz, Anacapa, and Santa Barbara) were made into the Channel Islands National Park in 1980. Isolation over thousands of years has created unique animal and plant species found nowhere else on Earth and helped preserve a place where visitors can experience coastal California as it was hundreds of years ago. Gallup's style draws upon the rich heritage of historic French and California Impressionism, but reflects his modern vision. Paintings range in size from small 8-by-10-inch studies executed on location to large studio paintings that reach up to 60 by 80 inches. He is a master of color and employs a myriad of hues to reflect the look of living nature. Gallup even learned to scuba dive so he could study the underwater life as well as locations such as Painted Cave, one of the world's largest sea caves.
Gallup explained that the process of painting the Channel Islands liberated his painting style: "I became unconventional, more daring in my composition and subject selection, working only to please myself. I experimented with grand-scale works of unfamiliar subjects and abstract patterns of light and color." His creative approach allowed him to capture the varied topography that ranges from vast sandy beaches and rolling hills to rocky caves and thick forests of pine and hardwood. The exhibition features a video of Gallup at work exploring and painting the Channel Islands created by Susan Sember, a documentary filmmaker who has been working on a film utilizing high-definition video of the region.
Her organization, Essential Image Source Foundation (EISF.org), is dedicated to promoting social awareness through high-definition media. Gallup was born in St. Louis in 1967 and studied at Otis Art Institute of Parsons School of Design, class of 1990. For the past 25 years, he has lived and painted in Southern California. He is a member and an officer of the California Art Club and an advocate for the important role of representational art in our state's culture.
Before his death in 1994, Frederick Weisman was a flamboyant art collector, jetting around the world in a private jet decorated by artist Ed Ruscha, and sitting for an Andy Warhol portrait. After his death, Weisman's legacy was a series of generous gifts to art museums in New Orleans, San Diego, Minneapolis, and at the Frederick R. Weisman Museum of Art at Pepperdine University. This simple but spacious 3,000-square-foot facility features changing exhibits that draw from Weisman's significant collection of contemporary art and travelling exhibitions. Past shows have included the work of Marsden Hartley, Italian neo-expressionist Sandro Chia and World War II posters.the museum feature a regularly changing program of exhibitions of contemporary and historic art by California and national artists.
http://arts.pepperdine.edu