The Virginia Museum of Fine Arts presents Xu Bing: Tobacco Project, open SEP 10, 2011 – DEC 04, 2011, Free admission.
Xu Bing: Tobacco Project explores the production and culture of tobacco as seen through the eyes of one of China's most innovative contemporary artists. The exhibition combines important pieces from the artist's earlier projects at Duke University in North Carolina and the Shanghai Gallery of Art in China with new work inspired by visits to tobacco farms, warehouses, and cigarette factories in Virginia. Altogether the exhibition spans a dozen years of Xu Bing's work and surveys one of his most ambitious undertakings.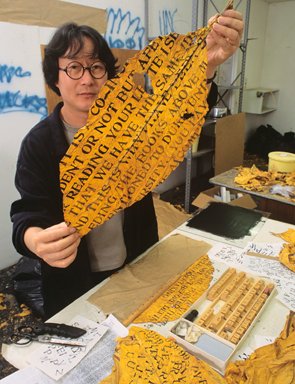 "Virginia's long history with tobacco makes Tobacco Project a particularly relevant exhibition," Virginia Museum of Fine Arts Director Alex Nyerges said. "Xu Bing is one of China's most recognized and celebrated contemporary artists, and we are pleased to feature this noted artist's work at the Virginia Museum of Fine Arts."
Xu Bing conducted his first Tobacco Project at Duke University where he was an artist in residence from 1999-2000. In 2004, he made a second Tobacco Project in Shanghai. Completing the trilogy, the newest Tobacco Project was inspired by his time spent in Virginia, which included a tour of the Philip Morris manufacturing center in Richmond, research at the Library of Virginia and the Valentine Richmond History Center, and a two-week residency in Richmond where he collaborated with former graduate students from Virginia Commonwealth University's School of the Arts to make new work. His new pieces include a 400-pound block of compressed tobacco embossed with the text "light as smoke," a book of 50 historic tobacco slogans redesigned and printed on cigarette paper to form a bound volume of poetry, and wooden cigarette boxes stamped with the logo "Puff Choice."
A prolific artist, Xu Bing has created a variety of works that explore traditional and experimental bookmaking and printmaking. Using tobacco as both a material and a subject in which to explore a wide range of issues, his work pertains to topics from the global trade to the exploitation of tobacco. Xu Bing's interest in "tobacco culture" extends to the historical impact of China's large-scale exportation of tobacco products from the United States that began in the late 19th century. By exploiting the complex connections between people and tobacco, his project ultimately alludes to fundamental issues of human culture and of tobacco as a medium of social exchange.
VMFA Curator of Modern and Contemporary Art, John Ravenal, said: "Xu Bing brings his usual wit and insight to his work with tobacco, as well as his sense of craft and showmanship. Viewers will see exquisite books of poetry printed on cigarette paper and matchbooks, and a forty-foot tiger-skin rug made of half a million cigarettes. The exhibition will be a stunning and thought-provoking display of Xu Bing's innovative art."
Born in 1955, Xu Bing was raised during the Cultural Revolution in China and moved to the United States in 1990 shortly after the Tiananmen uprising. He was awarded a MacArthur Fellowship in 1999, followed by a number of additional awards including the Fukuoka Asian Culture Prize in 2003, and the Southern Graphics Council Lifetime Achievement Award in 2006. Xu Bing was appointed vice president of the Central Academy of Fine Arts, one of the most important positions in the Chinese art system, in 2008.
Image: Xu Bing printing on a tobacco leaf, 2000. Photo courtesy Duke University.