Meadows and Prado Launch International Internship as Part of Three-Year Institutional Collaboration
Beginning September 18, Jusepe de Ribera's monumental portrait of Mary Magdalene from the collection of the Museo Nacional del Prado will be on view at the Meadows Museum at Southern Methodist University, home to one of the largest and most comprehensive collections of Spanish art outside of Spain. The exhibition, "Ribera: 'Mary Magdalene' in a New Context," which runs through January 15, 2012, marks the second year of the museum's unprecedented international partnership with the Prado and will include other notable works by Ribera from distinguished international museums and private collections, as well as works by the artist and his followers from the Meadows' permanent collection.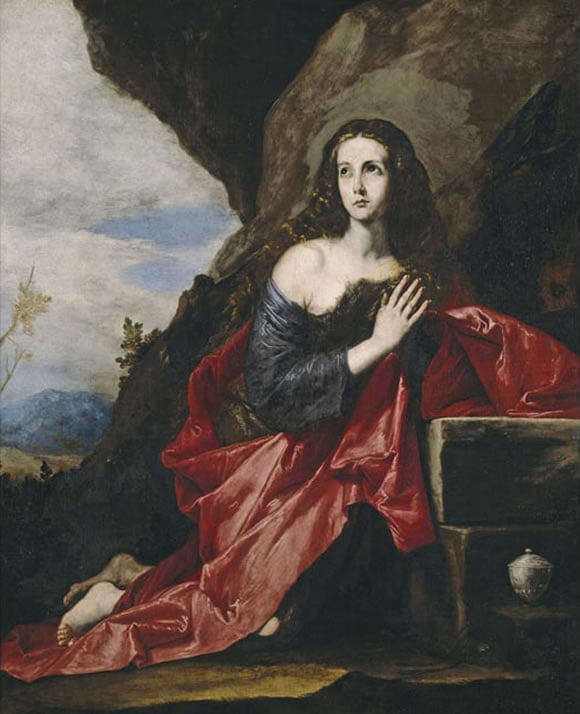 Jusepe de Ribera (Spanish, 1591-1652), Mary Magdalene, 1641. Oil on canvas. Museo Nacional del Prado, Madrid, P1103. Image © Museo Nacional del Prado, Madrid.
Ribera: 'Mary Magdalene' in a New Context is part of the museum's multifaceted three-year partnership with the Prado, a collaboration that includes the organization of groundbreaking focused exhibitions centered on pivotal masterpieces on loan from the Prado, scholarly texts that will advance the understanding of Spanish art, and an internship exchange between the two institutions. Following the 2010 presentation of El Greco's Pentecost, the Ribera exhibition will examine a lesser-known facet of the artist's career. Curated by Dr. Gabriele Finaldi, associate director of collections and research at the Prado, the exhibition will examine Ribera's representation of Mary Magdalene and other saintly females as a departure from his traditional style. This initiative is accompanied by a bilingual publication published by the Meadows Museum in collaboration with the Museo Nacional del Prado, comprising essays by Dr. Finaldi, Dr. Craig Felton (Smith College), Dr. María Cruz de Carlos Varona (Universidad Autónoma de Madrid) and Dr. Jessica A. Boon (The University of North Carolina at Chapel Hill). The exhibition's inauguration will feature a symposium on September 16, 2011, with lectures by Dr. Finaldi, Dr. Felton, and Dr. Helen Hills, professor of art history at York University, England.
About Mary Magdalene
Though Ribera is known for his dark and startling works, often depicting scenes of horror, his representation of the Magdalene is tender, emphasizing the beauty and elegance of his subject. The Magdalene was a central devotional figure in seventeenth-century Italy and Spain, and was a frequent subject for paintings of the time. Ribera painted the Magdalene several times, consistently portraying her as a sympathetic and sensitive figure. Ribera's Magdalene will be accompanied by three additional loans: Assumption of the Magdalene (1636) from the Museo de la Real Academia de Bellas Artes de San Fernando in Madrid; Saint Mary of Egypt in Ecstasy (c. 1640) from the Colección Pérez Simón in Mexico City; and Saint Mary of Egypt (1651) from the Museo Civico Gaetano Filangieri in Naples, Italy.