The National Gallery of Australia has unveiled a major international acquisition; a stunning large scale work titled Oceania, the sea (1946) by Henri Matisse (1869–1954). The work was purchased with funds generously provided by National Gallery of Australia Council Member Mr Timothy Fairfax AM.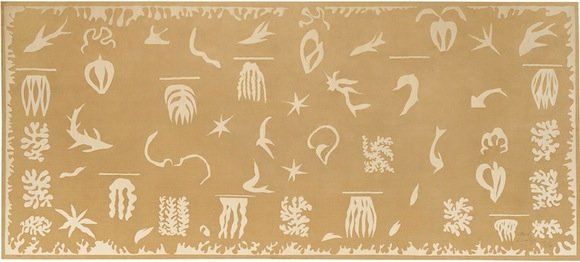 Henri Matisse, Oceania, the sea (Océanie, la mer) 1946. Screenprint on linen, 172 x 385.4 cm. National Gallery of Australia, Canberra. Purchased 2012
The Gallery has sought to acquire Matisse's Oceania, the sea for some time. The magnificent four metre canvas and silk screen work will now form a pair to the Gallery's Oceania, the sky, acquired in 1990. The latter, as well as an additional fifty one works from the National Gallery of Australia's Matisse holdings, is currently on loan to Matisse: Drawing Life at the Queensland Art Gallery.
Both Oceania, the sea and Oceania, the sky were based on a cut-out paper maquette, produced by Matisse, and were inspired by the artist's memory of a trip to Tahiti in the 1930s. Oceania, the sea comprises numerous cut-out motifs of fish, other sea creatures and plants, floating on a golden surface.
"We are thrilled to have acquired Oceania, the sea, a superb companion piece to our much admired Oceania, the sky. Not only is the work a superb addition to the National Gallery of Australia's collection of modern art, Oceania, the sea also relates to the broader collection, particularly its strong holdings of South East Asian textiles and Pacific Art", said Ron Radford AM, Director of the National Gallery of Australia. "We are indebted to Mr Fairfax for his exceptional generosity, allowing us to pair these two important works in the national collection", he said.
Oceania, the sea is in excellent condition. The work is signed and dedicated to the artist's son, Pierre, and was acquired from the Matisse family. It is a key work of modern art, a masterpiece of Matisse's late career.
Henri Matisse is one of the greatest artists of the twentieth century and the National Gallery of Australia has assembled an impressive range of his work; by far the largest in Australasia. As well as an oil painting, The abduction of Europa 1929, the collection also features costumes designed for the Ballets Russes, five drawings in charcoal, sixteen in pencil, and four in pen-and-ink, as well as etchings, lithographs and linocuts. The Gallery also holds Matisse's famous illustrated books, including Jazz 1947, among others. – www.nga.gov.au