The Pasadena Museum of California Art presents Pasadena Museum of California Art opens Project Room. Layer. A Loose Horizon, an exhibition on view June 3 through October 14, 2012.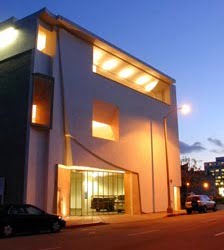 Continuing in the tradition of artists who have integrated the PMCA building into their exhibition, innovative art collaborative Layer that will occupy both the Project Room and the museum lobby, culminating in an impressive sculptural installation reaching across the museum's outer façade. While software and digital fabrication have become indispensible elements of architectural design, enabling greater complexity of forms, the artists of Layer—Lisa Little and Emily White—challenge the ability of these tools to render environments that truly engage the visitor. By combining a computational approach with a perceptual one, the artists create a physically engrossing and intellectually stimulating spatial construction. The resulting project represents just one instance in a series of possible permutations. Sketches and early digital iterations of the piece will also be on view in the Project Room, revealing the artists' process.
The Pasadena Museum of California Art (PMCA) is dedicated to the exhibition of California art, architecture, and design from 1850 to the present. Informed by the state's rich mixture of cultures and inspired by its impressive geography, California art has long been defined by a spirit of freedom and experimentation. PMCA exhibitions and educational programs explore the cultural dynamics and influences unique to California that have shaped and defined art in all media.
Pasadena Museum of California Art
490 East Union Street
Pasadena, CA 91101
626-568-3665
www.pmcaonline.org