ATLANTA – Stepping into the archives housing the Spelman College Museum of Fine Art permanent collection is akin to diving into a treasure trove of mixed media. Paintings, textiles, prints and sculptures by Faith Ringgold, iona rozeal brown, Jacob Lawrence, Elizabeth Catlett, and Hale Woodruff are among the 350 pieces in the collection. The museum has opened the doors of its collection storage to friends and champions of the institution, who have in turn, helped to create the exhibition, "Multiple Choice: Perspectives on the Spelman College Collection."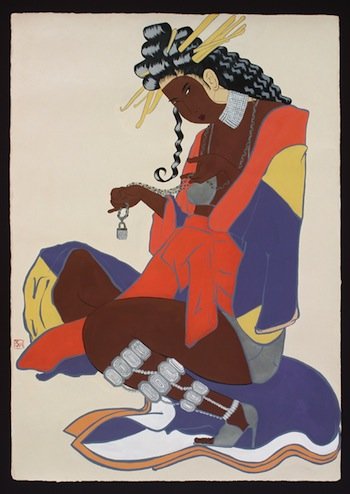 Iona Rozeal Brown, American (born 1966), a3 blackface #65, Acrylic on canvas, 85 x 59 inches, Gift of the artist
Through this unique project, students, faculty, staff, friends of the museum, alumnae, and other stakeholders have been invited to view the College's art collection, select an object, and then document their responses. As part of the exhibition, responses from 50 participants will be shared with museum visitors via object labels, recorded video statements, social media, and other interactive means. "Multiple Choice" will be on view from Feb. 7-May 18, 2013.
Spelman College's permanent holdings are a rich resource. African, ethnographic, and three-dimensional artifacts comprise the core of the permanent holdings, which date back to the 1940s. The collection of African art includes works from Cameroon, Ghana, the Ivory Coast, Liberia, Mali, Nigeria, Sierra Leone, and South Africa. The permanent holdings also include works by celebrated artists including Beverly Buchanan, Sheila Pree Bright, María Magdalena Campos-Pons, Lalla Essaydi, LaToya Ruby Frazier, Nandipha Mntambo, Nancy Elizabeth Prophet, and many others.
Alumnae, faculty, staff, students, scholars, and the general public regularly inquire about works in the College's permanent collection and offer insightful feedback and reflections. Andrea Barnwell Brownlee, Ph.D., director of the museum, explained, "'Multiple Choice' offers the unprecedented opportunity for an array of stakeholders to select, engage, and discuss specific works. Two factors helped guide the project: first, that it was challenging for most to choose just one work and secondly, that as in multiple choice tests, the answer is more often than not 'all of the above.'"
Members of the community taking part in the exhibition include Chris Appleton, founder and executive director of WonderRoot; Lucinda Bunnen, photographer and arts patron; Arthur J. Clement, architect and president of Clement & Wynn program managers; Tananarive Due, Spelman College Cosby Endowed Chair in the Humanities and an award- winning science fiction author; Leatrice Ellzy, managing partner of Beatrix Moss and member of the Fulton County Arts Council; Michelle S. Hite, Ph.D., Spelman College department of English lecturer; Michael L. Lomax, Ph.D., president and CEO of UNCF; Susan J. Ross, photo-griot; and Daryl White, Ph.D., Spelman College professor of anthropology.
"'Multiple Choice' is an open invitation for viewers to have firsthand engagement with the College's growing collection," said Anne Collins Smith, the curator of collections. "This project challenges the widespread idea that museums are exclusive institutions that are inaccessible to the general public. 'Multiple Choice' affirms viewing art is an interactive experience and quenches the contemporary thirst for on-demand access."
TO SCHEDULE A GROUP TOUR
To schedule a group tour of "Multiple Choice: Perspectives on the Spelman College Collection," please contact Makeba Dixon-Hill, curator of education, at [email protected] or 404-270-5682.
To learn more about the exhibition "Multiple Choice: Perspectives on the Spelman College Collection," please visit spelmanmuseum.org.