Mildred Lane Kemper Art Museum presents Georges Braque Cubist Still Life, 1928–1945 an exhibition on view January 25–April 21, 2013.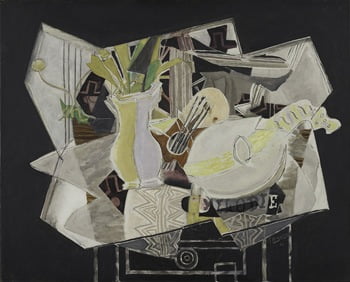 Georges Braque, Vase, Palette, and Mandolin, 1936. Oil, charcoal, and graphite on canvas, 32 x 39 5/8 inches. San Francisco Museum of Modern Art, Purchase with the aid of funds from W. W. Crocker. © 2013 Artists Rights Society (ARS), New York / ADAGP, Paris. Photo by Ian Reeves.
Georges Braque and the Cubist Still Life, 1928–1945 offers the first in-depth exploration of Braque's experiments with still lifes and interiors from an overlooked period in the career of this seminal artist. A collaboration with The Phillips Collection in Washington, DC, the exhibition is the first major US museum exhibition dedicated to Braque's work in sixteen years.
In the 1910s, Georges Braque and Pablo Picasso overturned the history of Western representation, sweeping away centuries of three-dimensional mimetic painting with a new pictorial language of fragmented and faceted objects and anti-illusionistic space. The still life—particularly the modern subjects of the café tables of Paris and the pipes, newspapers, carafes, and wineglasses that accompanied them—was central to their radical experiments. For Braque, however, still life was more than the means to an end: it was the source of a lifelong investigation into the nature of human perception and the experience of the lived body in the world. In an interview late in his career, he explained that his goal as an artist had long been to render "tactile space," the space between humans and the objects that make up everyday life. It was still life, he said, with its focus on objects within reach of the hand, that best allowed him to address this relationship.
Georges Braque and the Cubist Still Life, 1928–1945 explores this notion of "tactile space" and its connection to Braque's artistic process as well as to his long-standing interest in rendering the material quality of objects. Braque systematically worked through groups of related paintings, revising them for years on end or putting them aside and returning to them later. This resulted in cycles of works, some ranging across an entire decade, that explore variations of the same motif, in which he employed experimental techniques and materials to evoke the real yet elusive relationships between humans and things. Many of these cycles are gathered here, some exhibited together for the first time since the 1930s.
The 1930s and early 1940s were an important transitional period in Braque's career. The years leading up to and coinciding with World War II were highly fraught, as his world was turned upside down by the rise of fascism in Germany, the Spanish Civil War, the declaration of war by France and Britain in response to National Socialist aggression, and the occupation of Paris by Nazi Germany. Immersive and disorienting, Braque's still lifes become increasingly concerned with alternative worlds: spaces and objects are fractured and intertwined, and variously textured and patterned surfaces—wood grain, marble, wallpaper, cloth—invite the viewer to imagine entering the spaces and touching the objects. The experience is often troubled and incomplete, as one can never fully make sense of these Cubist environments, pointing to a tension between Braque's devotion to the creation of embodied interior worlds and the historical complexities of the world beyond.
Mildred Lane Kemper Art Museum,
Washington University in St. Louis
1 Brookings Dr St Louis, MO 63130
kemperartmuseum.wustl.edu