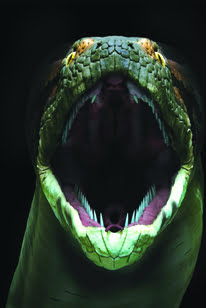 PHILADELPHIA (October 14, 2014) — It is the biggest snake that ever roamed the planet, and it is coming to Philadelphia in February 2015.
At 48 feet long and 2,500 pounds, Titanoboa cerrejonensis grew as long as a school bus and as heavy as a small car. It lived in very hot and humid climates 60 million years ago, 5 million years after the dinosaurs went extinct.
A life-size replica of the prehistoric beast is the centerpiece of Titanoboa: Monster Snake, on view from Feb. 14 through April 19, 2015 at the Academy of Natural Sciences of Drexel University. This Smithsonian traveling exhibit delves into the discovery, reconstruction and implications of this enormous reptile, hailed as one of the greatest discoveries since T. rex.
Some of the Academy's popular live snakes, as well as specimens from the Herpetology Collection, also will be on view. The exhibit is free with regular museum admission.
Twice as long as the longest snake alive today, Titanoboa was discovered in 2009 by a team of scientists working in one of the world's largest open-pit coal mines at Cerrejón in La Guajira, Colombia. Fossil plants, giant turtles and crocodiles found with it deep underground reveal the earliest known rain forest, teeming with life and dating to the Paleocene, the lost world that followed the demise of the dinosaurs.
"Titanoboa is a bigger, badder boa, and it will simply knock your socks off," says Academy Director of Exhibits Jennifer Sontchi. "The exhibit opens on Valentine's Day, so be sure to bring your main squeeze!"
Titanoboa: Monster Snake is a collaboration among the Smithsonian Tropical Research Institute (STRI), Florida Museum of Natural History, and University of Nebraska-Lincoln. It is circulated by the Smithsonian Institution Traveling Exhibition Service (SITES).
###
For an image, visit: ansp.org/about/press-room/photos/changing-exhibits/
News media contact:
Carolyn Belardo, Senior Communications Manager, The Academy of Natural Sciences of Drexel University
Phone: 215-299-1043, [email protected], | Press Room: www.ansp.org/press
Founded in 1812, the Academy of Natural Sciences of Drexel University is a leading natural history museum dedicated to advancing research, education, and public engagement in biodiversity and environmental science.
HOURS: Monday–Friday, 10 a.m.–4:30 p.m.; Saturday–Sunday, 10 a.m.–5 p.m. ADMISSION: $15.95 adults; $13.95 children 3-12, seniors, college students, and military personnel; free for members and children under 3. PHONE: 215-299-1000
THE ACADEMY OF NATURAL SCIENCES OF DREXEL UNIVERSITY 1900 BENJAMIN FRANKLIN PARKWAY PHILADELPHIA PA 19103