Wooden classics, vintage racers, and other antique and Chesapeake Bay-related boats are coming to the Chesapeake Bay Maritime Museum June 17-19 for the 29th annual Antique & Classic Boat Festival and the Arts at Navy Point in St. Michaels, Md. Hosted by the Chesapeake Bay Chapter of the Antique & Classic Boat Society, this Father's Day weekend event brings a sense of nostalgia to the Miles River and CBMM's docks and campus, drawing some of the area's finest classic boats, nautical and maritime treasures, entertainment, food, and libations to the waterfront festival.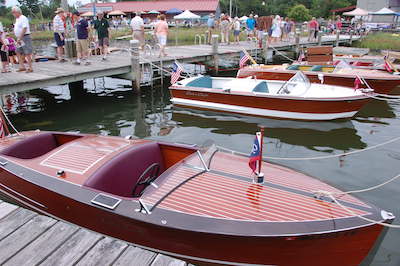 "With a competition among entrants for best restored and preserved boats, this festival attracts the best of the best when it comes to classic and antique boats," commented ACBS-Chesapeake Bay Chapter Festival Chairman Chuck Warner. "The boats you'll see are in pristine condition, with the festival offering the rare opportunity to see them all together."
The show attracts the finest runabouts to yachts, including race boats, work boats, launches, hydroplanes, and utilities. Chris-Craft, Trumpy, Gar Wood, Donzi, and Lyman are among some of the boats represented.
This year's festival will feature a special appearance of the 1903 Lawley yacht Witchcraft. Now sailing along the Chesapeake, the 66-foot Witchcraft was designed by B.B. Crowninshield for William Bowditch Rogers for use as a racing yacht on Lake Champlain, and built by Boston's famed Lawley boatyard in 1903.
The festival also features Drew Nugent and the Midnight Society performing live jazz on Saturday, June 18 from 1:00 p.m. to 5:00 p.m. from the Miles River-front decks of CBMM's At Play on the Bay exhibition building. Drew Nugent and the Midnight Society are a group of jazz musicians bringing back the days of hot and traditional jazz with their syncopated tempos and fiery improvisations. Drew Nugent, the ensemble's leader—playing piano, trumpet and vocals—is also a jazz composer, with influences primarily spanning from Fats Waller and Jelly Roll Morton, through to Gershwin, Berlin, and the great Walter Donaldson. Drew has played venues including Verizon Hall at the Kimmel Center, Garrison Keillor's "A Prairie Home Companion," the Delta Queen and Mississippi Queen Steamboats, and the Governors Island Jazz Age Lawn Party in New York City.
Along with the East Coast's largest gathering of antique and classic boats, the festival's signature Arts at Navy Point pavilion brings more than 70 juried fine artists, craftspeople, and vendors offering nautical and maritime-themed items for boat and home.
Workshops and seminars, building demonstrations, family activities, and a nautical flea market will be available throughout the weekend, along with a selection of regional and grilled foods, music, and a Pyrat Rum bar for libations and other drinks. This year, Friday and Saturday bring "Historic Yachts of the Chesapeake" seminars to festival-goers, with times and more information available in the program given out at the event.
Children's activities include boatbuilding craft projects, and the Hagerty Insurance Marine Youth Judging program, where youth learn about the award-winning qualities of preserved and restored classic boats. Along the Fogg's Landing side of CBMM's campus, the festival's Field of Dreams features an array of restorable classic boats and motors, along with other items in a nautical flea market sale.
Festival hours are Friday from 11 a.m. to 5 p.m.; Saturday from 10 a.m. to 5 p.m.; and Father's Day, Sunday from 10 a.m. to 2 p.m. The festival includes two-day admission to all museum exhibitions where authentic Chesapeake boats and traditions are highlighted. The event is $5 for CBMM members and children 5 and under, or $18 for adults; $15 for seniors and students with ID; and $6 for children 6-17.
Scenic river cruises aboard the museum's 1920 buyboat Winnie Estelle will be offered throughout the festival, with boat rides and food an additional cost. For safety reasons, non-service dogs are prohibited at CBMM festivals. For more information, visit bit.ly/CBMMBoatFestival or call 410-745-2916.