The New Jersey Museum of Contemporary Art (NJ MoCA) invites everyone throughout New Jersey and the New York/Philly metro area to come celebrate at a fabulous and fun kick-off benefit party on Saturday, October 23 in Asbury Park, NJ. The evening will celebrate NJ MoCA's entrance onto the cultural world stage and establish New Jersey's first museum of contemporary art.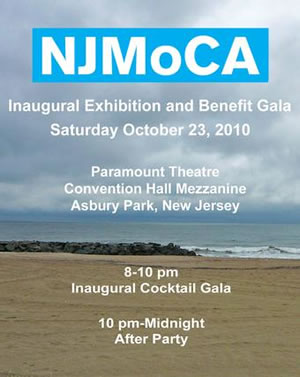 All guests will enjoy a preview of the inaugural exhibition — IT'S ALL AMERICAN — the largest exhibition of contemporary art ever in the state of New Jersey in 12,000 sq ft of gallery space in the Convention Hall Mezzanine overlooking the majestic Atlantic Ocean with thought-provoking works by artists from the United States, Israel, Hungary, Germany, Switzerland, Italy and England.
The party takes place in the beautiful 1930's art deco Paramount Theatre where guests will rock to live music by electro-rock band, film and multi-media composers, Fall On Your Sword, with a 30' screen backdrop of their ingenious and amusing original video performance — plus special guest DJ, Phil Mossman, formerly of LCD Soundsystem.
From 8:00pm – midnight, Gala guests will enjoy mingling with the artists, curators, and movers and shakers of the art world as they preview the amazing exhibition and enjoy cocktails, beer, wine, fine catered hors d'oeuvres, dancing, as well as admission to the After Party. Tickets are only $150 for 4 hours of artistic excellence in contemporary art and ribald fun.
From 10pm – midnight, After Party guests will join the revelry, exhibition, beer, wine, dancing and an electric art happening. Tickets are $50 and $25 for students with ID.
njmoca.org