The Museum of Performance & Design presents Toy Theatres: Worlds in Miniature transporting visitors into the enchanted world of imagination that appeals not only to children, but to the child within each of us. The exhibition is scheduled to run through the end of 2010 and is available for viewing during regular gallery hours.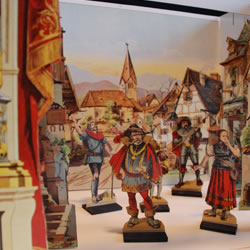 Toy theatres are the miniature paper theatres utilizing costume and scenery designs derived from the contemporary theatre that had their greatest popularity in the 19th century. The theatres, scenery and characters were sold in paper sheets, subsequently mounted on cardboard, cut up, then used for home performances of popular plays of the time.
The MPD exhibition, features 21 rare toy theatres dating from the 18th century up to the present, drawn from seven different countries including the United States, England, France, Germany, Spain, Denmark and Mexico. Along with the theatres, there are printed sheets of scenery and costumed characters.
In modern times, with a resurgence of popularity in these magical, miniature worlds, filmmakers as diverse as Terry Gilliam (The Imaginarium of Doctor Parnassus), Julie Taymor (Frida) and Ingmar Bergman (Fanny and Alexander) have been inspired to use toy theatres and paper figures in their films.
Image: Exhibition image by Karen Law
The Museum of Performance & Design is the first museum in the country dedicated exclusively to the performing arts and theatrical design. The Museum's mission is to educate people of all ages about the impact and value of the performing arts in their lives through exhibitions, programming, and research. In addition the Museum collects, preserves, and makes accessible performance and design materials that reflect our diverse culture.
Located in the Veterans Building in San Francisco's Civic Center, the organization continues to collect, preserve, and make available to the public – free of charge – its collection of 3.5 million items and programs documenting the diverse cultural legacy of the performing arts in California and beyond, including an extensive collection of oral histories of performing artists from various disciplines.
Museum of Performance & Design
Veterans Building Fourth Floor
401 Van Ness Avenue Suite 402
San Francisco, CA 94102
415-255-4800 (phone)
415-255-1913 (fax)
www.mpdsf.org