The exhibition galleries at the Smithsonian's Cooper-Hewitt, National Design Museum will close Monday, July 4, as the museum embarks on an extensive renovation and expansion. Admission to the museum will be free of charge 10 a.m. to 6 p.m. on July 4 to mark the closing of the final exhibition, "Set in Style: The Jewelry of Van Cleef & Arpels." Visitors can continue to enjoy the museum's Arthur Ross Terrace and Garden and the Shop at Cooper-Hewitt, which will remain open this summer without an admission fee.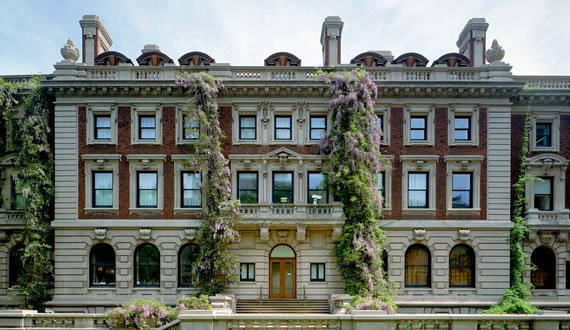 Carnegie Mansion Photo: Dennis Cowley
Cooper-Hewitt's main facility, housed in the Carnegie Mansion, will undergo renovation, beginning in fall 2011, as part of a $64 million capital campaign that includes enlarged and enhanced facilities for exhibitions, collections display, education programming and the National Design Library, and an increased endowment. On reopening, gallery space will increase by 60 percent.
Renovation of the Carnegie Mansion
Cooper-Hewitt's redesign focuses on adapting a 20th-century historic house to meet the needs of a 21st-century museum. Through reprogramming portions of the mansion on Fifth Avenue and 91st Street and the adjacent townhouses on 90th Street, the project will increase the museum's total exhibition space by 60 percent, from approximately 10,000 square feet to approximately 16,000 square feet.
The project's design architect is Gluckman Mayner Architects. Beyer Blinder Belle Architects & Planners LLP serves as the executive architect. The renovated facility is scheduled to reopen in 2013.
For further information, call (212) 849-8400 or visit http://www.cooperhewitt.org