Mid-Atlantic Center for the Arts Cape May Lighthouse celebrates National Lighthouse Day on Sunday, Aug. 7. from 9 a.m. to 2 p.m.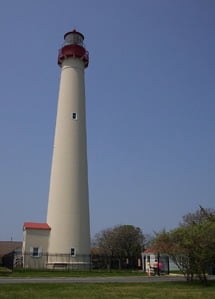 An aid to navigation since 1859 and one of the oldest continually operating lighthouses in the United States, the historic Cape May Lighthouse is hosting a day of family friendly activities and a crafts show at the base of the lighthouse.
Congress designated National Lighthouse Day on Aug. 7, 1989, marking the 200th anniversary of the signing of the Lighthouse Act and the commissioning of the first Federal lighthouse in the United States. The purpose was to provide recognition for the important role which lighthouses played in the history of our country, and the values of safety, heroism, and American ingenuity which they represent, as well as honoring and encouraging continued restoration efforts for existing lighthouses, many of which had fallen into disrepair.
Activities include:
Vendors offering nautical merchandise
Pirate hat-making for kids
Storytelling about the Lighthouse, pirates and shipwrecks, and the ghosts of the Lighthouse
Programs by the Cape May County Municipal Utilities Authority and the Nature Center of Cape May
Performers singing songs of the sea
Appearance by Pete the Pirate, mascot of the Cape May Lewes Ferry
Refreshments
Admission to the activities on the grounds is free. Admission to climb the lighthouse is $7 for adults and $3 for children (ages 3-12). The Cape May Lighthouse is located in Cape May Point State Park, Lower Township.
Image: NPS photo by Jennifer Perunko, 2004
www.capemaymac.org