Moderna Museet presents Yoko Ono Grapefruit, an exhibition on view 6 June–16 September.
The exhibition has its starting point in the instruction pieces of Grapefruit (1964), and highlights Yoko Ono as a pioneer of conceptualism and of the Fluxus movement.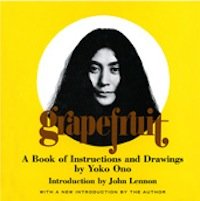 Yoko Ono, Grapefruit. Simon & Schuster, New York, 1970. Orginally published in 1964. © Yoko Ono
"I named my first book of instructions with the name of the fruit I loved. Grapefruit is a hybrid of orange and lemon and to me, it represented East and West, the two cultures in my life which gave the instructions the power of the Universe. Have fun with it." –Yoko Ono
For the exhibition Yoko Ono has written a new instruction: Search for the Fountain. The text has been sent to some 20 artists who have been invited to respond to the text in various ways. Among the participating artists are VALIE EXPORT, Tris Vonna-Michell, Simone Forti, Julieta Aranda, Jean-Jacques Lebel, and Emily Roysdon. For all participating artists, please visit Moderna Museet's website.
Yoko Ono will also realise two of her early instructions together with the public on Djurgården Island in Stockholm during the full-moon night between 4 and 5 June. The instruction Evening till Dawn, realised for the first time in Kyoto in 1964, will be followed by Secret Piece from 1953, in which three musicians improvise in the grove to the first sounds of the dawn.
Curator: Cecilia Widenheim
The exhibition is supported by Vinge.
Moderna Museet
Exercisplan 4
111 49 Stockholm, Sweden
www.modernamuseet.se