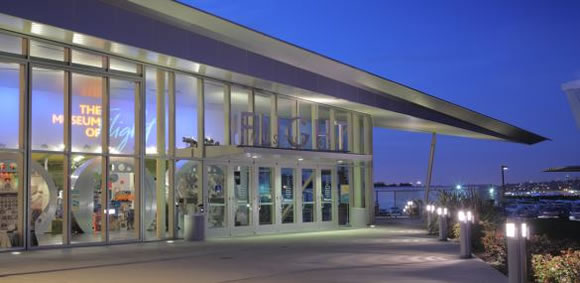 Outdoor family event features fast cars, planes, boats and the Blue Angels
SEATTLE – The Museum of Flight offers a full-throttle celebration of Seafair and the Blue Angels with the Aug. 4-5 Need for Speed Festival. Located at the foot of the Blue Angels' launching pad on Boeing Field, the Museum's East Parking Lot will become a village of family activities surrounded by speedy boats, cars and planes, including World War II fighters and the front line F-18 and T-38 jets performing in the Boeing Air Show at the Albert Lee Cup hydroplane races. In addition to the Air Show aircraft, the Hydroplane and Raceboat Museum's classic Century 21 hydroplane will be on display. The Festival will also offer a beer garden, a sandwich kiosk, souvenirs, kids' activities and New Orleans-style rhythm and blues by Hank and the Two Scoops. The Festival is open each day from 10 a.m. to 5 p.m., and is free with admission to the Museum.
"Need for Speed gives our visitors the opportunity to get an up-close and personal look at some amazingly fast aircraft, cars and even a hydroplane," said Doug King, Museum of Flight president and CEO. "We are excited to partner more closely with Seafair this year to offer a unique, backstage look at the Blue Angels air show, while giving our guests and members a weekend packed full of family-friendly activities for everyone."
Special guest at the Festival is photographer, author and Blackbird spyplane pilot, Brian Shul. Shul will share his stories as a Mach 3 Blackbird pilot during lectures at 1:30 p.m., and will be on hand to meet visitors at the Festival throughout the weekend.
Due to the large number of activities and visiting aircraft, parking near the museum will be limited. Alternate nearby parking will be provided.
The Museum of Flight is located at 9404 E. Marginal Way S., Seattle, Exit 158 off Interstate 5 on Boeing Field half-way between downtown Seattle and Sea-Tac Airport. The Museum is open daily from 10 a.m. to 5 p.m. Admission is $17 for adults, $14 for seniors 65 and older, $13 for active military, $9 for youth 5 to 17, and free for children under 5. Group rates are available. Admission on the first Thursday of the month is free from 5 to 9 p.m. courtesy of Wells Fargo.
For general Museum information, please call 206-764-5720 or visit museumofflight.org