The Scottish National Gallery of Modern Art presents J.D. Fergusson an exhibition on view through 15 June 2014.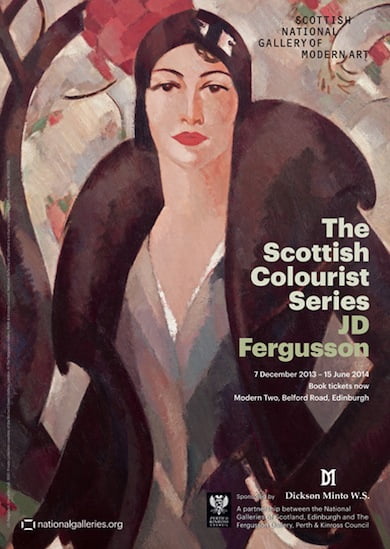 Bringing together well over 100 paintings, sculptures and works on paper by the Scottish Colourist, the exhibition will celebrate the importance of one of the UK's greatest twentieth-century artists. The outstanding features of the exhibition include examples from the series of extraordinary nudes Fergusson painted in Paris in 1910, two series of landscapes reunited for the first time in almost 100 years, and a significant display of his remarkable sculpture.
This exhibition, featuring works from public and private collections from throughout the UK, is the third and final in a series devoted to the Scottish Colourists, following the hugely successful shows focussing on F.C.B. Cadell and S.J. Peploe.
J.D. Fergusson (1874 – 1961) has the most international reputation and was the longest-lived of the group, which also included G. L. Hunter. His career spanned the birth of modern art in Paris before World War One, to re-vitalising the arts scene in Glasgow after the outbreak of World War Two. Fergusson is the only Colourist to have made sculpture and to have been involved with the performing arts, through his partner the dance pioneer Margaret Morris.
An artist of passion and sensuality, Fergusson is best known for his depictions of women. Paintings of his partners are amongst his most celebrated; these include The White Dress: Portrait of Jean, 1904, a bravura life-size image of Edwardian femininity featuring Jean Maconochie, and Le Manteau Chinois, 1909, a dazzling depiction of female self-possession showing the American artist Anne Estelle Rice. Morris and her pupils provided Fergusson with an endless source of inspiration, resulting in works such as the idyllic Summer 1914, of 1934.
Born in Leith near Edinburgh, Fergusson was essentially self-taught. By 1902 he had his first studio in the Scottish capital and became a familiar figure sketching in the city, as can be seen in Bank of Scotland from Princes Street Gardens, early 1900s. In about 1900, Fergusson met Peploe and from 1904 they spent the summers painting together in France, resulting in works such as Grey Day, Paris-Plage, 1906.
Scottish National Gallery of Modern Art (Modern Two)
73 Belford Road, Edinburgh