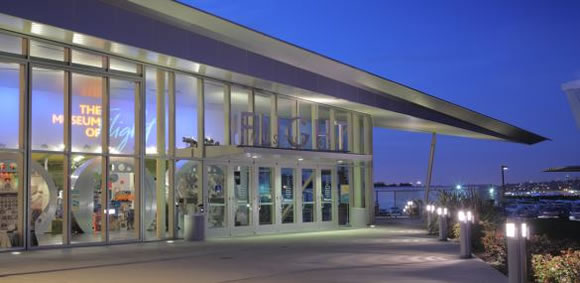 Bank of America Weekend Family Workshop: 21st Century Airships
Saturdays and Sundays, December 4, 5, 18, 19, 11:15 a.m. and 1:15 p.m.
Overshadowed by the airplane, the airship – a rigid or semi-rigid balloon, powered by engines–has a colorful history. Learn about these fascinating machines and the new airship designs for the 21st century. Then design your own airship!
 
Wells Fargo Free First Thursday
Thursday, Dec. 2, 5-9 p.m.
Once a month, the Museum stays open late–for free! Enjoy the Museum's Great Gallery, Personal Courage Wing, Space: Exploring the New Frontier exhibit and more from 5-9 p.m., courtesy of Wells Fargo. Museum Store and Wings Café will also remain open for the extended hours on this night.
Honeywell Explorer Lecture and Book Signing: How Boeing Defied the Airbus Challenge
Saturday, Dec. 4, 2 p.m.
The Museum of Flight's Dec. 4 Honeywell Explorer Lecture looks at one of the great corporate battles in aviation–Boeing vs. Airbus. During this presentation and book signing, author Mohan Pandey, a 37-year veteran of the aviation industry, will chronicle an insider's account of how Boeing fought back in the high-stakes and highly political quest for global aviation supremacy. Based upon his 2010 book, "How Boeing Defied the Airbus Challenge: An Insider's Account," the program also tells the story of Airbus, the first European airplane manufacturer since World War II to not only succeed in challenging Boeing, but to also nearly cripple it.
Holiday Celebration: Wright Spirit
Saturday, Dec. 11, 10 a.m.-2 p.m.
Celebrating the Wright brothers' first powered flight on Dec. 17, 1903, The Museum of Flight's annual Wright Spirit Holiday event features family activities, live holiday music and Santa and Mrs. Claus. Wright Spirit activities are free with Museum admission. Bring a toy to donate to Toys for Tots and drop it off in the Museum Store.
Bank of America Weekend Family Workshop: Wright Spirit
Saturday and Sunday, December 11, 12, 11:15 a.m. and 1:15 p.m.
They are the most famous brothers in the history of aviation: Wilbur and Orville Wright — the inventors of the airplane. Learn how they solved the problem of controllable flight. Then make a model of one of their aircraft designs!
Honeywell Explorer Lecture: The Kelly Johnson Story with Bob Bogash
Saturday, Dec. 11, 2 p.m.
The Dec. 11 Museum of Flight Honeywell Explorer Lecture features retired Boeing Company engineer Bob Bogash presenting the story of Kelly Johnson, one of the most influential aeronautical engineers in aviation history. The program profiles the Lockheed manager and engineer who was involved in the design of dozens of important aircraft included the Model 10 Electra, P-38 Lightning, P-80 Shooting Star, F-104 Starfighter, SR-71 Blackbird and the Constellation airliner. Johnson was also instrumental in the operation of Lockheed's legendary division of advanced projects — the so-called Skunkworks — where he helped develop the U-2 and Blackbird spy planes.
Lecture: Apollo 17 Commemorative Presentation with Dave Gianakos and Steve Brower
Saturday, Dec. 18, 2 p.m.
Dave Gianakos and Steve Brower will commemorate the 38th Anniversary of Apollo 17 with a panel discussion of the historical significance of the Apollo 17 mission, and particularly the lunar module the astronauts flew to and from the surface of the Moon. Apollo 17 (Dec. 7-19, 1972) was the last manned mission to the Moon. Gianakos is a master model maker who crafted the highly-detailed, 1/6-scale models of the Apollo 17 lunar rover vehicle and lunar module Challenger on display at the Museum beginning Dec. 18. Brower designed and built the Museum's full-scale replica of the Apollo 17 lunar module. Gianakos and Brower will also talk about how they created their museum-quality models.
Special Family Program: Winter Break Blast-off
December 26-31, 11 a.m.-3p.m.
Gliders, robotics and rockets. The Museum offers a selection of special, aerospace and aviation-themed activities during the holiday break.
The Museum of Flight is located at 9404 E. Marginal Way S., Seattle, Exit 158 off Interstate 5 on Boeing Field half-way between downtown Seattle and Sea-Tac Airport. The Museum is open daily from 10 a.m. to 5 p.m. Admission is $15 for adults, $13 for seniors 65 and older, $10 for active military, $8 for youth 5 to 17, and free for children under 5. Group rates are available. Admission on the first Thursday of the month is free from 5 to 9 p.m. courtesy of Wells Fargo.
For general Museum information, please call 206-764-5720 or visit